Swimming google with nose cover is crucial for anyone who is opting for an underwater swim. It happens many a time that water entering the nose ends up disorienting a swimmer. It can prove fatal, whether during a competition or during practice hours. A nose cap is often bought separately too. If as a beginner, you have trouble holding your breath underwater, a goggle with nose cover is your solution until your confidence builds up.
Reviews of Swim Goggles with Nose Covers

REIZ Underwater Hunting Camera Diving Mask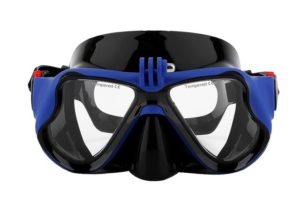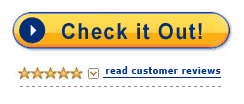 Reiz is known for their high-end posh sporting and adventure equipment. The USP of this swimming, It allows you to capture photos in case you are out on a recreational trip with water sports involved.
After testing many swimming goggles, almost all the members in our team were agree that this is probably the best swimming goggle with nose cover in the world today. It is difficult to match its quality in this price range.
There are many fake copies of this goggle are available in the market therefore we recommend you to buy this from most authentic source online: Get this original goggle from Borkut here.
If you are planning to fit a camera underwater then you should definitely go with this one. It is specially designed with a extra screw for the camera.
The body of the Reiz underwater diving and swimming set is made of silicon and glass. The glasses used for the protection of eyes are tempered to avoid any shocks or cracks due to high-intensity underwater diving.
Thus, no matter how high the force of the currents of the waves is, your eyes are bound to stay safe with this formula. In addition, the glasses come with anti-fog engineering to prevent vision problem.
The skirt around the glass is made of high-quality silicone. This ensures there is no mineral deposition, bleaching or color fading in your equipment. The strap around the back is adjustable to ensure it fits one and all. The overall structure is easy to clean and just as easy to carry.
Enkeeo Goggle with Tempered Glass Diving Mask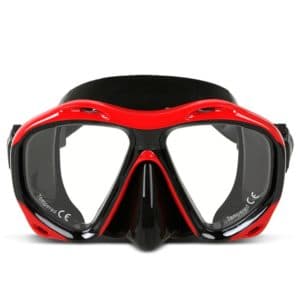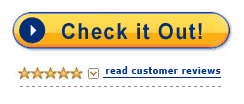 This swimming goggle has a reliable quality. This particular scuba and swimming mask is a must-have gear for any swimming and water activities enthusiast.
A major win for this swimming goggle is the use of tempered glass lens that is extremely sturdy and prevents any damage that might occur due to underwater pressure. There is a fair chance of encountering sharp materials hitting you underwater and a sturdy goggle comes in handy to protect your eyes at such times.
The build of the Snorkel Set is such that it can be adjusted to your face size. Considering our bone structures and face sizes vary prolifically, this goggle has a strap to loosen or tighten as per your comfort and size. The silicon skirt covering your face blends as per your strap size too, all thanks to the unique engineering of this goggle.
The snorkel goggle acts as a protection for your nose, in case you are an underwater swimmer or you opt for a dive. Water entering the nose throws off many great swimmers each year. With this unique Purge valve system to clear and drain the snorkel, there is less issue concern of accidents such as these.
Available in three different color options, this snorkel and goggle set is perfect for underwater vision and a fun outdoor experience with water sports.
Aqua Sphere Vista Swimming Mask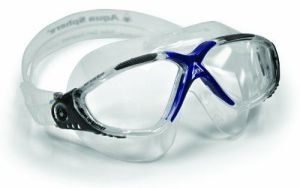 The design of the Aqua Sphere is very suave. The transparent build with the glass gives it a very professional look. The strong quality of the material used is also an advantage of this product. Thanks to its intelligent design, one can be assured of a complete 180-degree visibility in the pool.
So if you are competing or even swimming as a form of exercise, this helps in maintaining perfect vision which is crucial in the pool. Any blurry vision caused either by the goggles themselves or the water in the eyes can result in decline as far as performance is concerned.
The Aqua Sphere Vista Swimming mask easily avoids this issue and ensures that the swimmer has a good visibility range in the pool. The silicone skirt that covers the entire area around the mask ensures that the water stays outside and there is no leakage inside the mask.
This helps the swimmer in concentrating on their performance very well. Despite the firmly attached silicone skirt, the mask is not too tight and is quite comfortable to wear for extended periods of time.
Swimming Goggles Diving Mask Snorkeling Mask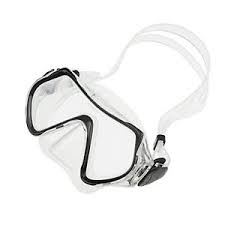 This product has been made especially for kids. Encouraging kids to swim is an excellent thing to do because it promotes the healthy kind of physical activity. It is fun for children to spend time in the swimming pool but it also gives them the benefits of working out from a young age.
It is important to provide the kids with all the gear that they need in the swimming pool so that this activity sustains itself for an extended period. No gear can dissuade children from going into the pool on a daily basis and practice their swimming. This anti fog swimming goggles driving mask is perfect for children from ages 5 to 12.
It provides them with the necessary protection from the water and encourages them to make swimming their primary form of physical activity. This mask can also be used for snorkeling and other water-based activities. The strong build of this mask makes sure that it can be used for years.
Aqua Sphere Vista Swimming Mask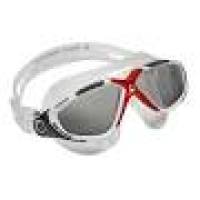 The Aqua Sphere Vista Swimming mask is a very good product with a wide range of features. To start with, it has tinted lens. This is an attractive feature for a lot of people who are looking for both utility and style in the pool. The tinted lens truly gives this mask an edge over the other swimming masks.
It, of course, also helps protect the eyes from the sun. Other than that the build quality of this mask is pretty strong and it is lined with silicone skirting that helps in keeping the water away from the eyes.
It is quite easy to wrap this mask around. And while it is firm in its elasticity around the head, it does not feel uncomfortable at all. So that makes it a very viable mask for professional swimmers who are always on the lookout for products like these that they can wear for extended periods of time.
A professional swimmer has to spend hours in the pool practicing their routines. A comfortable swimming mask makes a lot of difference in their overall performance, and this Aqua sphere vista swimming mask stands up to the expectations in that area.
Why Nose Cover is Essential in Swimming Goggles
Nose cover is a small device that is used by swimmers to keep the water out of their nose. It is a highly delicate piece of equipment that helps regular swimmers in focusing on their strokes without any discomfort caused by any water getting inside their nose.
This can be a serious issue for a lot of swimmers. Sometimes the clogging of water in the nose can lead to a lot of pain and discomfort. To avoid that a nose clip was invented. This nozzle cover is designed in such a way that it is easy to breathe and keep the water out of the nose.
There is much different kind of nose covers available in the market today. Professional swimmers use the more advanced version of this gear so as to concentrate on their speed and form rather than the water getting into their eyes, nose and ears. There are different gear that takes care of these various issues, of course.
For beginners, it is hard to breathe normally underwater. And if you are trying to learn the advanced techniques of swimming, then spending a lot of time in the pool is inevitable.
Using a nose cover can solve this issue very efficiently. A nose cap squeezes both the nostrils and forms a barrier between them and the water. This helps in keeping the water away while one is swimming. There is a few type of swimming techniques that automatically aid you in breathing without any trouble.
These are the backstroke and the freestyle stroke. But for a little more advanced styles like butterfly stroke and the flip turn, it is important to protect the nose otherwise breathing can become a bit of a hassle. And proper breathing plays a huge role in maintaining the efficiency of the overall performance. So that is why it is important to wear the nose covers before jumping into the pool.