Swimming goggles are the basic necessity for swimming enthusiasts, be it their first day in the pool or a usual routine swim. Swimming without the good swimming goggles is not only hazardous to the eyes but also something that sport and athletics associations worldwide look down upon.
Apart from its commonly known benefit of protecting your eyes from chemicals and foreign material present in the water, a quality swim goggle also helps you see better under water. It enables you to go for your strokes while you swim without any hesitance of going wrong.
Most Comfortable Swim Goggle
From our top 16 swimming goggles, we decided to pick a #1 by considering more than 20 different tests and finally we come up with the following goggle.
Copozz Premium Silicone Swimming Goggle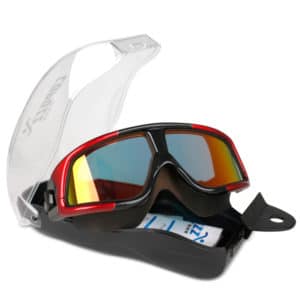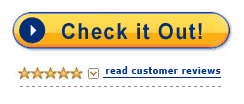 After going through 20 different tests and many comparisons we can say that Copozz premium silicone is the best swimming goggle for 2018. This swim goggle is far ahead of its time and there is no swim goggle in the market which will come close to this goggle.
For the lovers of large swim eye wears, this stylish goggle from CoPozz is a great alternative. With quality polycarbonate make and extremely sporty colors to go with the neutral black frame, this is the best adult swim goggle available in the market.
The additional benefit that you get from choosing this eyeglass is that you can use it as a scuba eyewear or diving eyewear too. It is laced with strong lenses that can cope up with extremely high water current force too.
The body of this ergonomically designed eyewear is made of polycarbonate and soft silicone. The rims along the lenses and sides of the eyes are plated with silicone too for comfort and support.
Coming to the lenses, the basic amenities like protection from UV rays, anti-fog and waterproofing are present. The electroplated lenses ensure it is perfect for both indoor as well as outdoor swimming.
The lens mirror is polarized and the different variants available have different color options in them. The head strap is adjustable and anybody between 14-50 can wear these. The durability of these swimming eyeglasses is great and it does not allow any mineral deposits to settle on your eyes while swimming.
Best Swimming Goggles for Kids
Certain hobbies, such as swimming, should be cultivated at an early age. Not only does it keep kids athletic, well built and strong but also ensures that they stay a step ahead of others in their overall development.
Since kids are fond of a collection of their swimming goggles same as adults, providing the best quality swim goggle can greatly affect their interest in swimming.
Bright colors, better protection, and a quirky make are some of the things that can incline your child towards loving his swimming lessons.
Anti Fog UV Protection Kids Swim Eyewear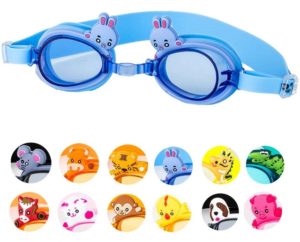 When shopping for a swimming essential for your kids, it becomes crucial to ensure that its design and make is something that a child can relate to. Keeping that in mind, this anti-fog UV eyewear has been designed to be the ideal stitch for the young swimmers.
With quirky animals popping up from the sides in some bright and engaging colors, this swimming goggle is sure to make your child want to attend all his swimming lessons.
It has a polycarbonate map which provides ample safety to the yes from the pool water. The sidelines and the strap are of soft silicone make that goes easy on the skin and hair of young kids.
The frame material is alloy, but shock and dust resistant. The durability of this swimwear is unquestionably great. In addition to all these features, there is also a strap to adjust the sizing of the belt to loosen or tighten as per your kid's comfort.
The silicone capping around the lens is triple protected, making a grip around the eyes. The lens used in these swimming goggles is anti-glare to prevent any sight issues.All these factors bring together a perfect result when it comes to staying under water and swimming like a pro for your kid.
Copozz Swimming Goggles for Kids Age 3-12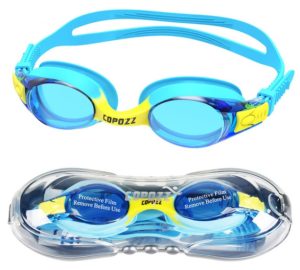 A renowned brand name that CoPozz is, their swimming glasses for kind between three to twelve years of age are spot on when it comes to protection of the eyes. Laced with some unique features and exceptionally sporty design, this one is sure to bring out the hidden swimmer inside your child.
The engineering of this swimming google is such that it provides 100% protection both above and below water. It is laced with UV protection for when sun's rays hit the swimmer and anti-blur technology on the lens to ensure zero water drop accumulation on the goggles while swimming.
The unique 3D ergonomic design and the one-piece single frame is perfect to keep it damage proof during the course of swimming. The adjustable strap on the back makes it long lasting and a perfect fit for kids of all ages between three to twelve.
There is a special gauged design along the sides to provide anti-slip protection. This can otherwise be a reason for the glasses coming off while swimming. The surface area of the lenses is also bigger compared to several other kids swim eyewear to provide a clearer and better view underwater.
Professional Children Swimming Glasses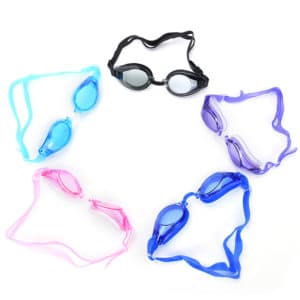 Looking for a not very gaudy and comfortable design for your kid to swim with? This eyeglass from GuoMuzi is a great choice to go for.
With sleek, neon-like translucent design, this swimming glass is laced with all the major protection and safety features that you look for in a swimming glass. Its sleek, comfortable and fits just right in the eyes of the young swimmers.
The most necessary and important feature being the anti-fog and anti-glare layering, this eyeglass comes equipped with both.
Thus, when doing a backflip you kid is protected from the sun and when swimming underwater, your kid gets prevention from foggy view ahead of him.
The colors have been kept very peppy and bright, ideal for both young girls and boys. It has the rightly angled middle eye fit that ensures different face shapes and sizes get the right view from every angle.
It's a rare technology but a necessary one nonetheless considering kids have maximum body development during the early years.
TFY Swimming Goggles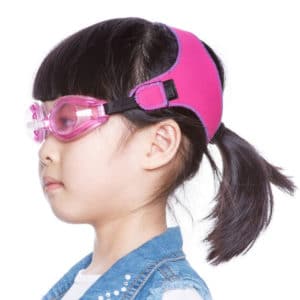 TFY knows what the kids prefer and this design of their swimming goggle speaks for itself. This unisex swim goggle for kids is made for kids above the age of 3.
They act as a shield between eyes and water to prevent any damage to the young, developing retina of kids.
A special care has been taken in selecting the fabric for the strap and the back panel that covers their head.
It is soft and cushiony with an adjustable feature to fit all kids alike. Thus, it can last a while, considering the body of children develops pretty fast in their early years.
Being a unisex item, it is ideal for both girls and boys and comes in two most loved colors by both the genders – pink and blue. There is also a black alternative for those who want to opt for neutral shades.
Best Swimming Goggles for Men & Women
Even though the swimming glasses for adults come with more or less same features, some qualities like the length and width of the lens, the colors and the skull size for the strap vary based on the gender.
When picking a swimming glass for women, keep in mind how preference of colors can heighten or make one lose their interest in the sport. Since comfort is of utmost importance in any hobby and sport, it is crucial to pick the right size in terms of the strap.
NEW Water Sportswear Anti-fog UV Shield Swimming Glass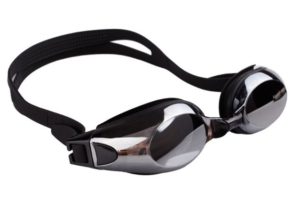 These swimming glasses from OBAYOLAY have been designed to work well for men as well as women. A look at the product gives you an idea of how comfortable it is for one to wear it while swimming.
The design is sleek and ergonomic and the make is such that it covers all parts surrounding your eyes extremely well.
The material used for the lens is polycarbonate and that for the sides is acetate, thus sturdiness of the goggles cannot be doubted. The straps are of premium quality, corrosion free fabric, which is easy on the skin and hair.
In terms of safety, the glasses in these goggles are laced with the three much-needed safety parameters, namely the anti-fog screen and the waterproofing on the top layer.
The UV protection that ensures no sun rays hit your eyes and the mirroring that allows a swimmer to swim overwaters without having any trouble with sunlight falling right in their eyes.
These sunglasses are available in four different color options, each just as sleek and smart as the other.
Professional Swimming Goggles
For someone who is taking a full-time interest in swimming and wants to pursue it at a 0professional level, it is necessary to have the right equipment and gear at hand.
A professional eyeglass such as this one can come in handy for competitions and athletic events. With 100% coverage for the eyes against water and a well-engineered design, a professional swimmer can rely on these stylish yet protective swimming glasses.
Easy to fold and easy to carry around, everything from the maintenance to the design of these swimming glasses is done with the purpose of making it easier for the swimmer to handle it.
The straps are adjustable and of very sturdy make, lest they are not prone to break while swimming. There is a gripping sideline along the straps to keep it easy on the skin.
The lens of the swim glass is laced with UV protection layer, clean and anti-fog vision coating as well as the much sought after waterproofing that does not allow any water droplets to settle down on the glasses while you swim. Thus, it is a complete hassle free package for a professional swimmer to use.
Anti-fog Anti-ultraviolet Men Women Swimming Goggles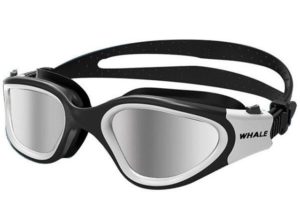 In a wide array of designs available for men and women in the swimming goggles segment, the designs from Whale always stand out. Yet another great creation from them is this anti-fog unisex swimming goggle.
It comes in several color variants, unique designs and with great elasticity for comfortable fitting. The colors have been kept neon and there are also three neutral variants available too.
These goggles can be said to be a more premium solution for the other adult swimming eye wears available in the market. With bigger frames, long lasting and well-engineered make, these eye wears ensure you stay comfortable as well as safe as you swim.
A notable feature is the grip slip provided on the side of these glasses that prevents any slipping or tightening along the sides of the eyes.
The neutral black strap has a divided two-layered design which is easy on the skin and the hair. It is lightweight which ensures long hours of swimming won't be a trouble.
The strap is adjustable so that all head sizes are comfortable wearing it. On a rough scale, anybody between 18-50 can comfortably wear it. The silicone is a premium quality that is easy on the skin.
Best Anti-Fog Swim Goggles
The first and foremost quality that is needed for an excellent quality swimming glasses is the anti-fog lenses or glasses. The idea of staying underwater can be troubling if you are not able to see clearly.
Whether you are swimming in a pool or an open water body, a fogged vision can cause accidents. Thus, its a must have an anti-fog glasses.
They enable you to see the walls and other swimmers in case of other people being around you. Being able to use your sense of seeing things is what makes swimming a bit more feasible for a lot of people.
Adult Professional Waterproof Glasses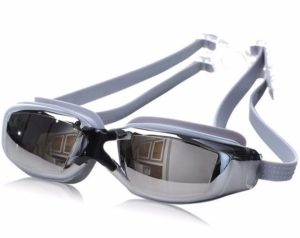 With its ergonomic design and zero water caging technology, this swimming goggle is perfect for adults. Designed to suit both men and women, the glasses of this goggle are of high-quality polycarbonate material.
The glass features a waterproof, anti-fog and UV resistant layering that is enough protection on every front. So whether you are swimming underwater or overwater, your eyes are going to stay safe from all the harm that lies out there.
Anti-fogging combined with water resistance ensures that you don't lose touch with what you are able to see even for a little time. For a beginner that's a huge thumbs up.
The eyecup and the eye band are made of soft quality, corrosion resistant silicone. Since these parts are in touch with the skin, they have been picked to stay allergy free.
The strap on the goggles is adjustable as per the size and comfort. There are several color options to consider while making a choice too.
Adjustable Swimming Goggles Adult Professional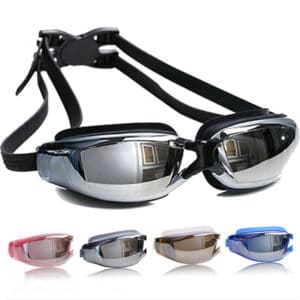 Designed especially to ensure clear view und, these swimming goggles provide a two-way protection to swimmers.
The glasses used in the making of these goggles come with triple protection that prevents any water retention the glasses, reflects back any Ultraviolet sun rays that might hit your eyes and ensure zero fogginess while you swim.
Thus, it is a perfect swimming goggle for a professional level swimmer as well as a beginner. These goggles are reusable and a one-time investment that will last quite long. The lenses used in this goggle have a polycarbonate, acetate and silicone make, blended together to give this superior quality eyewear.
The straps are of a standard adult size and can be adjusted as per the comfort of the carrier. They come in colors contrasting with the colors of the frame and the glasses.
A special care has been put into ensuring the sidelines of the glasses stay intact, allowing zero exposure to water when you are swimming, thus preventing redness and eye infections.
It comes in four different bright hues and can be worn by men and women alike. It is extremely lightweight and easy to put on. It is easy to bend and fold, making it comfortable to carry even in the smallest of spaces to store.
Best Swim Goggles for Beginners
When you are starting with your swimming lessons, the confidence build up takes a while. Having the right equipment and the perfect swimming goggles can work wonders in helping you focus underwater.
Nervousness makes many want to give up and the best way to overcome it is to have the best equipment to assist you with it.
Myopia Swimming Goggles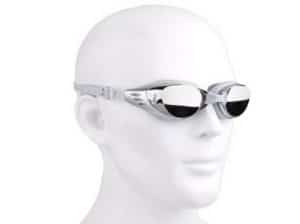 The Myopia swimming goggles are a tailor stitch for the beginners in the field of swimming. Their commendable work at ensuring the glasses are anti-fog makes them a go-to choice for anyone who is yet to master the art of being stable underwater.
They come in different myopic powers to ensure that the vision is clearer and better even for people with dull eyesight. It's a technology that is very recent. This is a very helpful development for people with eyesight problems.
These swimming goggles are made up of optic quality polycarbonate lenses. The build is very sleek and corrosion free. Apart from the anti-fog feature, these glasses are also 100% UV protection lased.
The gasket of these glasses is made up if silicon and it extremely smooth in texture. The strap it comes with is stretchable and can be fitted as per the requirement of the swimmer. There are several color options available in this design.
Adjustable Waterproof Anti Fog UV Protection Eyeglass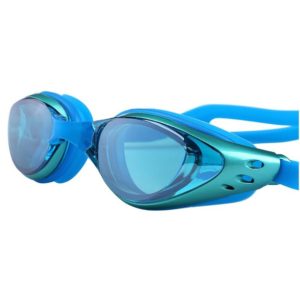 These edgy eyeglasses redefine fashion for adult swimmers. Available in some beautiful candy and metallic colors, these are fit for both men and women. The build of these eyeglasses has been kept in mediation so that it covers the eyes without appearing too bulky or too sleek on the swimmer.
The goggles have been comfortable and strongly fit so that it stays put as you swim. The usage is quite simple. It is easy to carry and clean as silicone allows no deposit of foreign materials on it.
Similarly, the presence of fluoride and sodium in water won't affect it much either. Thus, apart from being easy maintenance, it is also an investment that will last you a while if you take proper care of it.
The straps of these eyeglasses are adjustable and can be made to fit any head shape and size. The lenses have all the basic qualities that are sought in a swimming eyewear. They provide protection against UV rays, ensure absolutely no exposure to water.
Also, ensure complete protection against foggy vision while swimming underwater. The glasses are waterproof and provide complete resistance against the water flow at all times.
Best Swimming Goggles for Competition
When opting for a swimming goggle for competition, you need to keep in mind that it should have the three safety points tested and tried. UV Protection, Water Resistance, and Anti-fog availability should not be compromised for any other feature.
In addition to that, the design can be very important for such competitions too, after all, there is a certain brand image associated with each athlete.
Copozz New Professional Anti-Fog Swimming Glasses
The swimming gear from Copozz is known for its ultimately stylish design and ergonomically engineered make. This product stands true to what it claims and delivers a professional quality eyewear at a reasonable and pocket-friendly price.
Talking about its features, from safety and protection point of view these goggles are a great steal. They have several layers of protective screening to avoid any damage that can be caused to the eyes from external factors like exposure to bare sunlight.
Its covering is such that the water cannot come in contact with your eyes. The first layer of protection is formed by the polycarbonate optic glass which is water resistant and anti-fog technology lased.
The size of the glasses is 4.5 cm, which is just perfect for all eye sizes. There is an additional layer of silicone covering to surround the areas around the eyes too.
The straps on the goggles are adjustable depending on the bone and skull structure of individuals. Another unique quality is the several designs and color options available for these swimming goggles.
They have beautiful tinges or orange and blue as well as some neutral shades for the lovers of basic aesthetics.
Water Glasses Professional Swimming Goggles
For years, swimming eyeglasses from Whale have received accolades from professional swimmers. Everything about these glasses, from color schemes to protection features are made keeping in mind the needs of athletes.
This particular design we discuss here has been made specifically for women with the glass width of 5.5cm and height of 3.7cm.
Its safety features include mirror combined with UV reflection, meaning there is absolutely zero glaring and no visibility trouble. The glasses are waterproof so no droplets stick to the surface no matter what.
The goggles are also anti-fog, so that's another plus point for a professional swimmer. The design and make is extremely ergonomic. There is no comprise with the quality of the polycarbonate glass used.
The strap is of superior quality and adjustable as well. There are five extremely sporty color options available in this one, keeping in mind how women prefer it. The straps have been kept a universal black in all the color variants.
Best Prescription Swim Goggles Reviews
People who need to wear corrective lenses to read or see in general also need to replicate that and wear similar prescription swimming goggles for maintaining a good vision underwater.
Prescription goggles come with corrective lenses so that vision is not an issue for swimmers who wear glasses. Although these goggles are made with the precision, they are not completely accurate. But since vision under water is already blurry, they work well.
These days there are many companies that manufacture prescription goggles for swimming and all one needs to do is choose the right ones according to their needs and specifications.
Splaqua Swim Goggle with Optical Corrective Lenses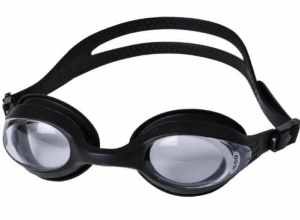 The Splaqua Swimming goggles are specially made prescription goggles that come with diopters (from -1.5). The design is swanky and stylish and goes with the rest of the swimwear. In fact, one can hardly tell that these are prescription goggles.
The lens is of top notch quality and the vision through these glasses is crystal clear even in water. The strap around the goggles is provided with a buckle that helps the user to adjust it according to their liking of fitting.
The strap itself has been made of soft silicone which allows the strap to be firmly in its place without irritating or pulling on the skin and hair. The goggles have an anti-fog feature too. This means that no matter how much time one is going to spend in the waters, there is no fog in the glasses.
That is one of the major benefits of these goggles. The lens also offers protection from the harmful ultraviolet rays which allow the swimmers to spend as much time as they want in the pool. All in all, this is a great purchase for anyone looking for a pair of prescription swimming goggles with a full range.
Aqua Sphere Eagle Interchangeable Lens Goggle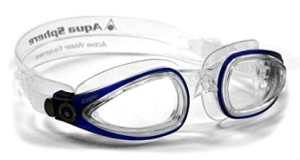 The Aqua Sphere Eagle goggles come with the option of the interchangeable lens. It can be used for both clear lenses as well as prescription based corrective lens which is recommended by an optician. The lens can be changed easily, and it doesn't take much time to do that.
But one of the most important aspects of this product is its beautiful design. The entire pair of goggles has a single structure, and the design is very minimalistic. And despite the lack of any fancy adhesions and accessories, these are a very sturdy piece of goggles.
The strap, for instance, is made of silicone and is very soft. It does not hurt the skin where it is strapped on. Even the silicone around the lens has very good suction, and there is absolutely no water reaching inside the glasses. That is a great benefit for professional swimmers who can't afford to have any distractions while swimming.
Speedo Mariner Optical Goggle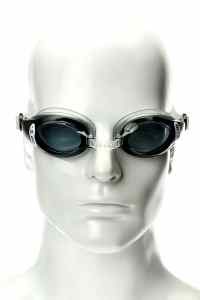 Speedo is a popular brand as far as sportswear are concerned. In fact, this brand has a broad reach almost all over the globe. Their range of swimwear is exquisite and is used by all the professional swimmers. The Speedo Mariner Optical goggles are prescription glasses made for swimming which let the user pick their level of the corrective lens required.
The design of these prescription glasses is spot on as far as style is concerned. Apart from the external factors like design and appearance, the performance of this product is also top notch. The goggles have anti-fog polycarbonate lenses which also protect the swimmer from UV rays.
This is especially useful for those athletes who have to spend long hours in the swimming pool practicing their routines. All in all, this is a perfect purchase for anyone looking for a pair of reliable prescription swimming goggles from a reputed brand.
Precautions While Using Prescription Goggles
There is some information that one needs to go through before zeroing in on a pair of prescription swimming goggles. It is advisable to talk to one's optician to know the exact level of lens correction needed so that there are no unwanted mistakes made.
These goggles are equipped with what is called a diopter that determines the strength of the lens. The prescription goggles are very easy to buy at a pharmacy, but one needs first to know what their real lens adjustment is. The following are some precautions one must practice before going for the prescription goggles:
Extensive research about prescription goggles is mandated before any purchase. Since the market is flooded with these products, it is important to know what one is getting into. There are many different kinds of these goggles meant for different purposes, so a proper research before actually buying the product is a good practice.
The two main types of prescription goggles are the competitive ones and the recreational ones. Professional swimmers are advised to go for the competitive prescription glasses.
It is better to consult the optician before making the purchase as they can tell you precisely what the lens correction needed is.
Features to Look for Purchasing Swim Goggle
A swimming goggle can be your lucky charm and something that aids your swimming in every possible way if only you pick it right. The most important aspect of using a swimming goggle is the lens.
It should have a UV coating to protect against sun's harmful rays, a waterproof coating to make sure water droplets don't settle down. Most importantly it should have an anti-fog layer.
Often cold water ends up making the lenses foggy when you resurface. That can cause accidents, so an anti for the layer is necessary.
In any sport, it is important to stay comfortable while you are at it. A comfortable swimming eyeglass can keep you feeling easy while you swim. Unease won't only divert your mind but also keep you from succeeding if you are in a competition.
The grips of the belt that runs along the back are also something to examine before you buy. It should be adjustable, comfortable on your hair and skin as well as long-lasting. The belt plays a great role in ensuring you are comfortable while you swim.
Lastly, it is the resistance that a lens provides against water flow current that needs to be examined. The sturdier the frame, the better protection it provides when swimming in open waters. So see to it that you know what sports and activities are you going to use your goggles to buy the right one accordingly.
Conclusion
Whether you are a beginner, a pro or a professional level swimmer, the importance of a swimming goggle and that too the right one cannot be denied. Make sure to pay special attention to the safety procedures it offers as well as to the measurements.
Too big or too small can be a cause of discomfort while swimming. It is also necessary that you explore the uses you will be taking your swimming glasses and the activities you will be using them for before you buy one.
There are different types of designs for different sports. For instance, there is a different design for scuba and an entirely different design for the professional level swimmers.